Our Location
Opp. Gulbai Tekra Approach BRTS Stand,
University​ to Panjrapole Road, Ambavadi,
Ahmedabad, Gujarat 3800​15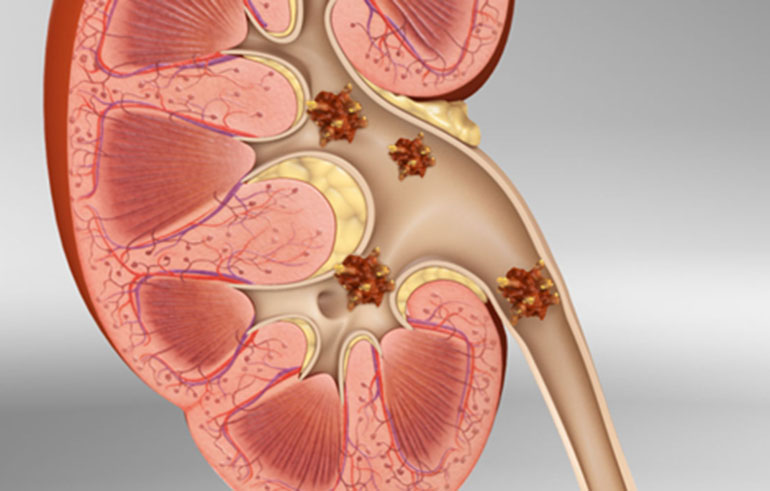 Kidney Stones! It's symptoms, causes, treatment
posted by : Fusion Date : December 20, 2017
14 comments
What are kidney stones?
Kidney stones are a spontaneous accumulation of salts and minerals in the kidney which once formed grow in size and can travel down the ureter.
Small kidney stones up to the size of 5mm usually pass on their own, but larger ones require treatment in the majority of patients.
Kidney stones can vary from small gram size stone to at times staghorn stones (very big) obstructing and occupying the whole kidney.
Patients usually present with excruciating pain as kidney stone symptoms and at times can develop kidney failure in neglected cases.

Kidney stone symptoms:
Most common symptoms of kidney stones are :
Pain during urination.
Smelly and cloudy urine.
Severe back pain.
Constant need to urinate.
Blood in urine.
Kidney stone causes:
Factors that increase the risk of kidney stones are dehydration, family history, genetics and geographical distribution ( Gujarat is endemic for the kidney stone disease) and certain medical conditions ( metabolic reasons).
Common causes of kidney stones are :
Drinking less water than needed.
Excess presence of calcium in our body.
Uric acid.
Certain medical situations like Crohn's disease.
Kidney stones can be easily diagnosed with basic investigations like sonography abdomen and X.ray KUB. Lab investigations are supporting tests for evaluating gravity of stone disease and deciding treatment modality. At times complete metabolic workup is needed, especially in recurrent kidney stone patients.

Kidney stone treatments:
Various treatments can be inducted into kidney stones that do not pass out on their own. Kidney stone treatment offered can be graduated from a simpler form (Lithotripsy) to Endourological procedures ( requiring endoscopes and lasers) to laparoscopic and open surgeries (rarely done these days).
Our approach should be to pick the simplest possible form of treatment in managing kidney stones. Up to 1.5 cm size kidney stones and up to 1 cm size, ureteric stones can be treated with lithotripsy. The bigger stones need endourology procedures like URS, RIRS, PCNL, etc. Technological advancements and lasers have made the treatment of kidney stones more safe and simple.
"Prevention is better than cure" should be practiced in kidney stone patients to its maximum. These patients are generally advised to take low protein and low sodium diet with adequate calcium. The most important part is adequate hydration. These patients with kidney stones should try to maintain hydration so as to produce at least 2-2.5 liters of urine daily.
Lots of myths prevail in society regarding kidney stones removal. The most important amongst them is that 'formed stones dissolve with treatment'. The truth is that only pure uric acid stones can dissolve to some extent by medical treatment, rest all stones either pass on their own or require some form of treatment for removal.