Our Location
Opp. Gulbai Tekra Approach BRTS Stand,
University​ to Panjrapole Road, Ambavadi,
Ahmedabad, Gujarat 3800​15
REVOLIX 120W THULIUM FOR PROSTATE SURGERY
The REVOLIX 120 is the latest laser to be launched and it's the most advanced laser introduced for the treatment of Prostate surgery and is superior to all other laser technologies currently being used for the treatment of Prostate surgery. The RevoLix 120 is here today to provide better care for your patients.
Features
Consistent absorption by the chromophore
Narrow depth of thermal damage
Excellent hemostasis
Fast procedure times
Reusable and single use 550 micron fibers
End and Side fire fibers available
Benefits
Less postoperative pain
Less bleeding
Less necrotic tissue generated
Faster patient turn around and recovery
Low cost per procedure due to reusable fibers
Patients with anti-platelet can also be safely operated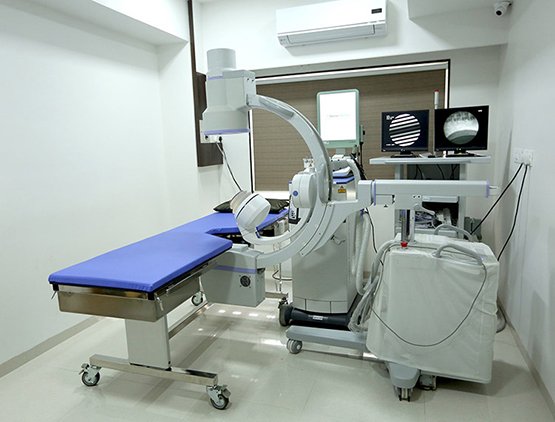 DORNIER SIGMA (ELECTROMAGNETIC) LITHOTRIPTER WITH INCORPORATED SONOGRAPHY
Dornier Sigma is a premier, fully integrated workstation that provides an unparalleled platform for both lithotripsy and endourology procedures. Equipped with the latest imaging technology, superior open access design, and flexible patient positioning, Gemini is the optimal solution for both urologists and patients.
Features
It is electromagnetic generator for better pulverization of stone.
Integrated sonography machine helps in reducing radiation exposure and also help in treating radio lucent stone.
Safe for pediatric renal stone also.
Benefits
Less pain
Less haematuria
Good stone clearance rate and less number of sittings required for patients.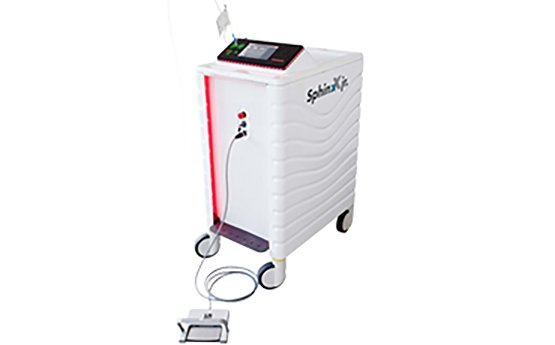 SPHINX JR. 30W HOLMIUM FOR STONE SURGERY
This is the ideal laser for endoscopic lithotripsy with rigid and flexible endoscopes. Adjustment of pulse energy, repetition rate and stone effect is great: Optimized laser for unparalleled efficiency in lithotripsy of hard and soft calculi or haemostatic tissue effect.
Features
Highest Peak Power 18,000 watts
Fully Adjustable Pulse Width 100-700 Microsecs
Adjustable Pulse Energy 0.5-3.5 Joules Per Pulse
Full Power at 110 Volts, 20 Amps
Very effective in all type of endourological procedures
Intracorporeal Lithotripsy
Benefits
More effective stone breaking
Ability to work on all types of stones
THUNDERBEAT SYSTEM
The Olympus THUNDERBEAT surgical tissue management system is the only surgical tissue management system that delivers every common form of energy used in surgery today (monopolar, bipolar, ultrasonic, and advanced bipolar), as well as the revolutionary combination of advanced bipolar and ultrasonic energies.
Features
Best-in-class performance
Delivers fastest-in-class cutting speed, reliable for 7 mm vessel sealing, minimal thermal spread
Precise dissection with its fine jaw design